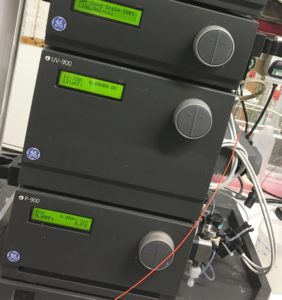 What if you're not ready or not able to move to the next generation of ÄKTA instruments? For many labs, Explorers are their workhorse instruments and upgrading isn't an option. There just isn't the budget or necessity to replace an otherwise satisfactorily working system. The concern for many labs is GE's plan to discontinue servicing the ÄKTA Explorer from December 2017. After this, servicing will only be offered if there are parts available.
Robust and Reliable
We know that the ÄKTA Explorer is a robust and reliable system. Widely used for over a decade, its versatility and reliable operation make it an excellent choice for labs developing purification processes. In many cases, there's no need to rush into an expensive upgrade. iLab Solutions' service engineers are experienced in maintaining working Explorer systems and bringing problem or mothballed systems back on-line.
Continued Service & Support
We have many Explorers under service contract and will continue to offer preventative maintenance (PM), breakdown and service plans for the instrument indefinitely. Our network of independent suppliers of parts means we're confident we can continue to offer great, cost-effective service for ÄKTA Explorers. iLab will support your Explorer as long as it is economically viable to keep the instrument running.
This service will also apply to Prime, Prime Plus, Ettan, FPLC & Purifier.
Take a look at our range of service plans and give us a call if you'd like to explore the options available for your systems!