We're dedicated to keeping your lab running
Whether you're scoping out a new instrument, maintaining existing kit
or looking for day-to-day supplies, chances are we can help
Instruments Supported by iLab Solutions
Akta Lab-Scale Systems
The range of AKTA protein purification systems from GE Healthcare offers scientists the ability to purify virtually any biomolecule, whilst its UNICORN operating software makes it easy to control every stage of the purification process. iLab Solutions can service all of the current range of next-generation AKTAs as well as offering service, repair and support for older systems – including those that have been discontinued by GE.
Current Systems:
AKTA start
AKTA pure
AKTA avant
AKTA prime plus
AKTA xpress
Discontinued AKTA Systems:
Explorer
FPLC
Purifier
Prime
Micro
In addition to lab-scale systems, iLab also service pilot scale systems that enable labs to develop scaleable processes that can be transferred to production quickly and effectively.
AKTA pilot and oligopilot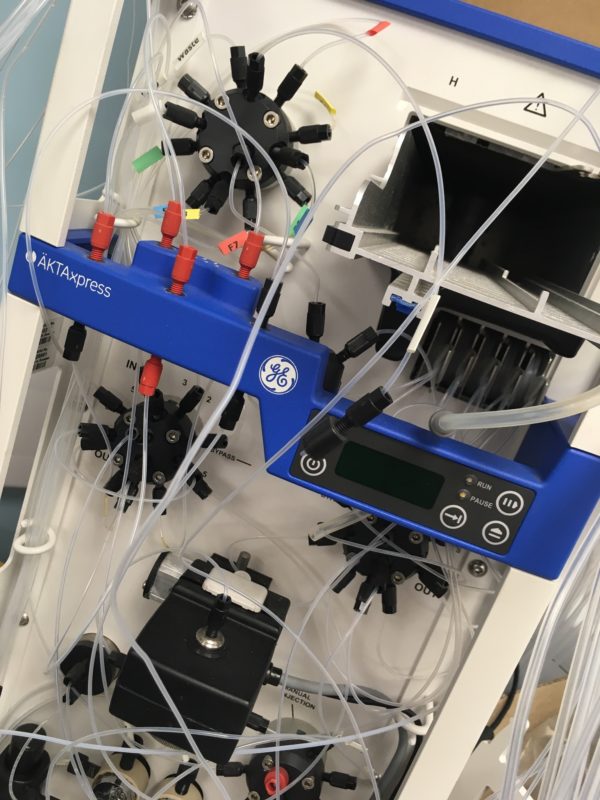 Give your older AKTA a boost with a software upgrade to Windows 7 or 10 OS We often talk to labs who are struggling to maintain the effectiveness of their systems because they are constrained by their software. It's common to find FPLC systems being controlled from lab PCs that are running on old...
"Software Upgrades"
Continue reading
You've selected your system, justified the capital expenditure and it's installed and running in your lab. How can you ensure that you maximize your instrument investment and avoid the high costs associated with instrument failure? ...
What if you're not ready or not able to move to the next generation of ÄKTA instruments? For many labs, Explorers are their workhorse instruments and upgrading isn't an option. There just isn't the budget or necessity to replace an otherwise satisfactorily working system. The concern for many labs is GE's plan to discontinue...
"Continued Support for ÄKTA Explorer"
Continue reading